WE OFFER INTEGRATED MARKETING SOLUTIONS
With our offices in Johannesburg, Lagos and Amsterdam, plus an extensive network throughout Africa, we have the local insights, experience, logistics and network to support any blue-chip client in successfully and efficiently marketing their goods and services to any market in Africa.
Being committed to offering our clients fully integrated marketing solutions and having the attitude of tenaciously cracking every challenge, we constantly learn, evolve and expand our network, skills and offering.
As such, we have redefined traditional agency roles to develop multi-skilled and multifaceted, non-siloed and collaborative team members across borders. We are passionate, disciplined and efficient in the way we solve our clients' issues.
THE SPACE NETWORK
Africa is our domain. We understand the complexity but also its potential. We manage our projects from our three offices in Johannesburg, Amsterdam and Lagos and will be expanding our network further, following our clients' needs to coordinate their interests on the African continent. Here is an overview of all the countries we have been actively engaged in.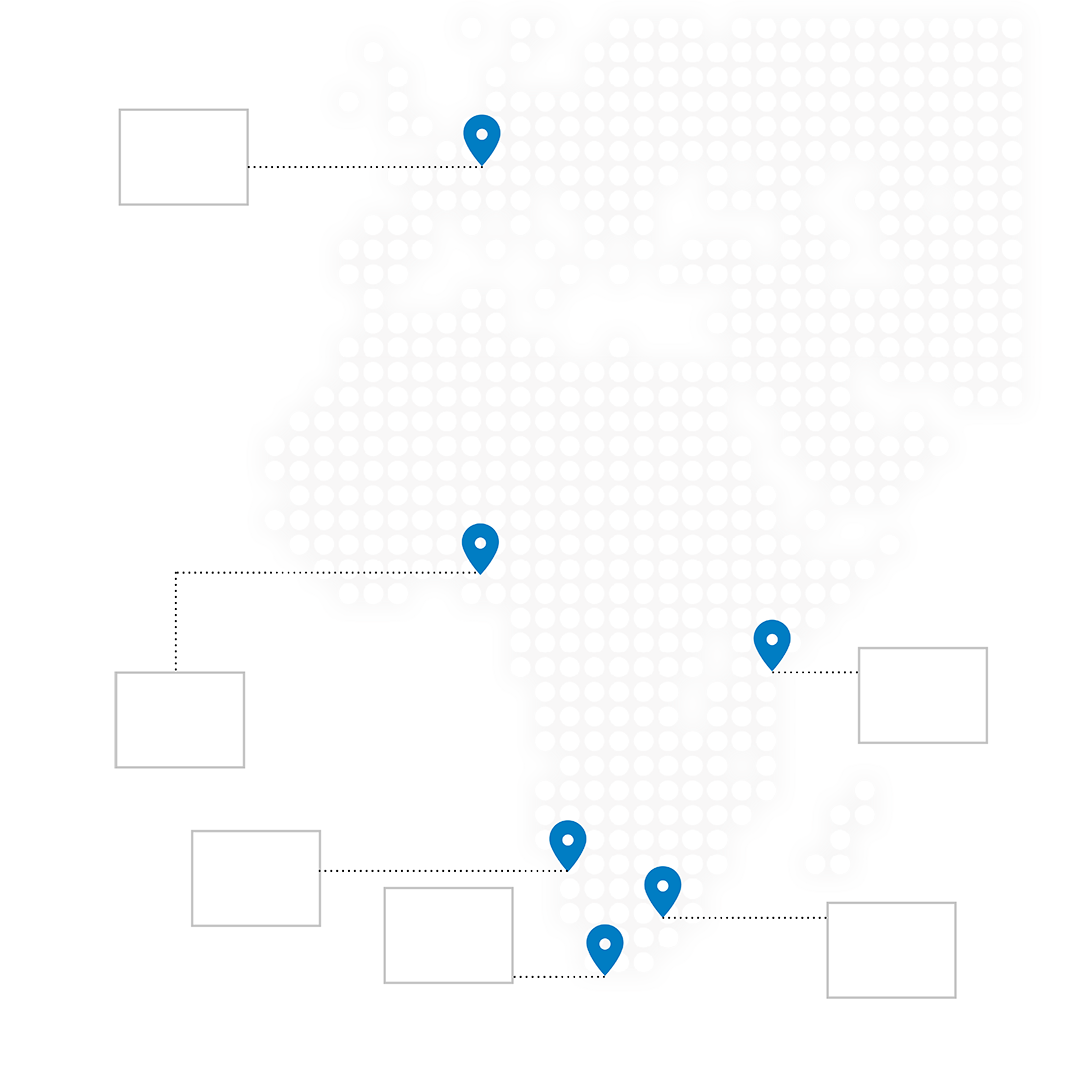 OUR TEAM
KAGISO SEGALE
CREATIVE ASSOCIATE
Kagiso is the man behind the lens. With a burning passion set amid creating engaging content. The primitive content producer always strives to learn, grow and, in-turn, expand his expertise.
JOHAN PRINS
DIRECTOR: STRATEGY
Valued by his peers as go-to strategist, Johan holds post-graduate qualifications in Psychology, Sociology and Philosophy from University of Johannesburg with over 15 years of experience in communication, media and marketing strategy.
NTOMBI NKOSI
ADMINISTRATIVE ASSOCIATE
Currently studying towards a BA in Psychological Counselling – Ntombi's quiet determination and friendly, professional manner sees her manning the front desk at SPACE headquarters. Her organising skills makes her the go-to person for any administrative issues in the office.
HELENE NIEUWENHUIS
CONTENT EXECUTIVE
Media, marketing and brand communications junkie and a seasoned broadcast producer with a passion for finding new and exciting ways of telling brand stories. Shaping her career at the 24-hour news channel eNCA, Helene's been at the forefront of the communications space through her work on a prominent industry-focused television programme. She holds a BA Honours Degree in Journalism and Media Studies and also sits on the Vega School of Brand Leadership's regional advisory board.
ZELDA JACOBS
MANAGER: EVENTS AND ACTIVATIONS
From labour and security to guest logistics and production - Zelda's level-headed, practical approach means she is good at getting things done - and getting them done efficiently. She started her event management career with the 2003 ICC World Cup Cricket tournament and has honed her passion for the event and retail experiential sectors ever since.
KUTLWANO RAMPHORE
LEGAL INTERN
An ambitious young South African with a passion for the law, Kutlwano believes in the power of hard work and determination. With an unquenchable lust for knowledge and steely motivation, Kutlwano is set to climb the corporate ladder in the future.
ZANELE MZOBE
ADMINISTRATIVE ASSOCIATE
As an integral part of the SPACE team, Zanele performs a wide range of administrative tasks. Having worked in the domestic industry for 15 years, Zanele possesses good interpersonal and organisation skills. Zanele is keen to develop her personal and professional capabilities at SPACE in order to contribute to the overall success and efficiency of the organisation
REABETSWE TWALA
BRAND MANAGEMENT ASSOCIATE
In less than 140 characters, the digital savvy strategist, Reabetswe holds a honours degree in Brand Management. Occupying her multiple roles as strategist, social media manager and intern mom.
LUNGI MXONGO
DIRECTOR
Lungi holds a higher diploma in Fine Art and Graphic Design and studied Media Management through the AAA School of Advertising in 2008. She has extensive experience working on various accounts. She heads up our media channel services.
GERRIT PRINSLOO
DIRECTOR
Gerrit started his career as a stylist on national television and moved into the field of event management in 2005, conceptualising and executing numerous activation campaigns and events. Gerrit is currently head of the SPACE event's team.
MOYA VAN NIEKERK
MEDIA EXECUTIVE
The seasoned media specialist boasts over 12 years of experience. Being known for her vast knowledge and understanding of everything media, earned her the alias 'Media Encyclopaedia'.
RICKO DE BRUYN
BUSINESS HEAD : BUSINESS SERVICES
Well-versed in complex financial matters, Ricko is tasked with all aspects of financial administration in a variety of commercial institutions – both large and small. He holds a post-graduate qualification in Media Management from the AAA School of Advertising.
DEBBIE BRITZ
INTERNAL LEGAL ADVISOR
Graduating top of her class, Debbie holds a LLB degree from L.E.A.D. The multi-skilled attorney boasts experience as an attorney and in client service. Debbie provides SPACE with all facets of legal advice
RYAN LAING
BRAND MANAGEMENT EXECUTIVE
Fueled by an unquenchable thirst for brands and the different ways in which brands and consumers connect, communicate and engage with each other, Ryan specializes in brand strategy and communication.
JOANNE GOLDBERG
CREATIVE DIRECTOR
An avid disciple of all things creative, Joanne graduated from the AFDA film school with a BA (cum laude) degree in motion picture and a BA Honours (cum laude) in Brand Communication at the Vega School of Brand Leadership. Jo specialises in filmmaking and visual communication and currently heads the SPACE creative team
ANDRIES BOTES
FINANCE MANAGER
With a post-graduate BComm qualification from North West University and experience as an Accountant, Andries is the tasked with handling SPACE's financial matters.
SHAUN FRAZAO
RESEARCH AND INSIGHTS EXECUTIVE
With a cum laude honours degree in Development Communication and completing a Master's degree in Quantitative Political Communication, his research and communication planning experience always identifies and provides invaluable insights.
AGGIE PHATE
MEDIA ADMINSTRATION
Aggie has become something of an office institution. Well-experienced in office administration, it is her duty to bring order to, and contain, the whirlwind of activities around her while maintaining an undeniable sense of humour.
STEVE NKOSI
ADMINSTRATIVE ASSOCIATE
Connecting SPACE with its multiple stakeholders, in the coolest shuttle in the city and always ready to help when you need him. Steve handles all things admin related, keeping SPACE at the top of its game. The shuttle will add.
PATRICK JOORE
DIRECTOR: EUROPE
Patrick heads up SPACE European operations from the Amsterdam HQ. He ran large international TTL accounts and teams at agencies like Grey and JWT. Specialized in integrated brand solutions and relationship management.
UNATHI MABETA
EVENTS ASSOCIATE
The solution-orientated Events Associate is an on-site event manager. Unathi holds an integrated Media Practices qualification from Boston Media House.
MORNE EBERSOHN
DIRECTOR: OPERATIONS
Morné holds a national diploma in Public Relations. He started his career in advertising. He is known for his strong business sense, attention to detail and ability to conceptualise, supervise and conclude many successful campaigns.
NATANYA BRITZ
CREATIVE ASSOCIATE
Natanya is a pop surrealist artist, self-proclaimed geek and a BA honours degree graduate as a double major in Illustration and Communication Design from Open Window. Her in-depth technical training enables her illustrate immaculate designs.
REINHARD VAN WYK
CREATIVE ASSOCIATE
With a background in Film and Television, Reinhard is an Animation specialist with a qualification in Film and TV from Tshwane University of Technology. Comfortable amid his creative forte, he never misses a creative opportunity.
OTIS OLIFANT
INTERN
Otis is studying towards his marketing degree at the University of Johannesburg and has joined SPACE as an intern. With a keen interest in consumer behaviour, Otis is assisting the insights department in crafting effective strategies for clients.
TREYVONE MOOSA
EVENT PRODUCER
Treyvone has a real passion for youth culture, understanding diversity and making people smile. Coupled with ten years' experience in Brand communication, Experiential Marketing and Project Management, this guy is who we call for creative and impactful brand and product experiences.
REAGILE MAKENNA
MEDIA ASSOCIATE
With an Honours degree in cultural and media studies from University of Kwa-Zulu Natal. Reagile is a media enthusiast with an intrinsic understanding of consumer behavior which enables her to compile targeted media schedules
JEAN-CLAUDE KINNEAR
JUNIOR BOOKKEEPER
Jean-Claude is a bookkeeper and all round nice guy. He is the bridge between Finance and the team. His detailed and cautious approach allows SPACE to process all its financial transactions with ease.
CHARMAINE NDLELA
BOOKKEEPER
With four years' industry experience and a BComm Accounting degree, Charmaine balances sheets with her eyes closed.
BUHLE GAMEDE
ADMINSTRATIVE ASSOCIATE
Buhle is a young enthusiastic lady, currently completing her BA degree in International Relations at UNISA. She is part of our Administrative staff, managing the reception area and all admin related issues.
MASENTLE NYANTUMBA
MEDIA ASSOCIATE
A well rounded media planner with a burning desire to always better herself and, in-turn, the campaigns she schedules. Masentle boasts advanced communication skills which enable her to always deliver the best value for money
JUDIKA BRAND
MEDIA ASSOCIATE
The friendly, warm-hearted traditional media planner and buyer with a meticulous approach to her daily tasks. Judika is a mid-weight media planner and buyer boasting +7years experience, with desired results and excellent negotiation skills.
CAMILLE BAKER
INTERN
The ever-curious Camille holds a BA degree in Strategic Communication and forms part of the Lost in SPACE (LIS) Internship programme."
MELUSI NCONGWANE
INTERN
A charismatic Advertising graduate, Melusi Ncongwane has his finger on the pulse and a professional manner that brings trends and sound business practices together to get to the best results.
ANE VAN DER MERWE
JUNIOR BOOKKEEPER
With 3 years' experience in administration and finance general assistance. The multi-talented Ane Van der Merwe is SPACE's Junior Bookkeeper
PROMISE MOTSHELE
SENIOR EVENTS ASSOCIATE
Promise Motshele holds a BTech in Music Production from Damelin. With experience as an event specialist across multiple industries, Promise's focus is client relations and an all-rounder tactical event implementer.
GLEN MUDAU
SOFTWARE ENGINEER
A quick-to-learn coder, always on the lookout for the best technological solutions. With a degree in Software Programming from University of Johannesburg and IT accreditations. Glen is bringing geek back.
XOLANI QWABE
INTERNAL LEGAL ASSOCIATE
The tenacious young attorney in the making is currently completing his LLB degree at the University of Witwatersrand. Xolani is the general assistant to SPACE legal advisor.